Negotiable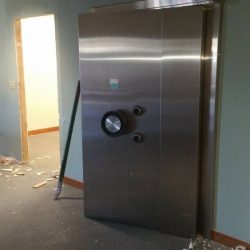 Asking $11,000 OBO for the complete vault. This vault is currently in storage at our location in Oregon and has been disassembled and is ready […]
2 hours ago
2 total views, 2 today
Negotiable
My tenants will do major renovation and wants me to get rid of 4 bank vaults. functional now. Purchaser is responsible for picking-up/transportation. Don't ask […]
September 18, 2017
975 total views, 4 today
Bank Equipment Dot Com FREE Classifieds
List Your Equipment for Sale
Bank Equipment FREE Classifieds is a classifieds listing website for selling bank equipment. Become a FREE member and list your equipment for sale within minutes. Manage your listing from your own dashboard.
Join Now!
Today's Most Popular Listings
From the Blog
What does Bump your ad for a Dollar do? Moves your ad to the top of the main listings, below Top Ads, when results are sorted by "Most Recent". Your ad stays at the top of the category until other ads are posted, it will then move down the listings. Bump Up your ad is […]

As American Millennials are joining Baby Boomers and Gen Xers as the country's main breadwinners, they're leading a financial revolution in what they want from banks and in how they prefer to manage their finances. And if banks want to keep customers, they'll need to adapt to the latest generation's needs and desires – and […]

When Wells Fargo opened its first high-tech branch three years ago in the District's NoMa neighborhood, it did away with desks and replaced traditional counters with large touch-screen ATMs. -More-
Listings Tag Cloud (Click a word)
BankEquipment Dot Com News
03/05/2013 –
Limited Time Sale! All Featured Ads $25 from $35
For a limit time BankEquipment Dot Com has the Featured Ad function on Sale. By the way the Featured ad is the rotating images at the top of the page. These stay no matter how many get put in as Free below. And of course all and as many as you want non featured ads are always FREE.
Thank you, Mark Bohnhoff
02/14/2012 – If you are one of the 296 Financial & Security Products Association (FSPA) members, feel free to send us your 125 x 125 pixel banner ad or ads to run for free for three months! Nothing to sign, No phone calls to take, Just a free trial that will turn off after three months unless you call us for more. Give it a try. Just Call Mark by pressing the Contact button in the main Navagation Bar at the top.
04/15/2011 – Announcing the new BankEquipment.com website. If your account is not usable or it looks like the account did not make the migration, please re-register.